Podcast: Play in new window | Download (Duration: 36:05 — 33.7MB) | Embed
Subscribe: Google Podcasts | Email | RSS | More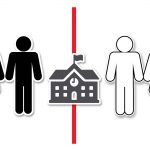 S2E7 – Didn't we solve this problem? Why American schools are more racially segregated than ever.
As protests rage across Minneapolis in the wake of the police killing of George Floyd, we need to remember that these protests are informed by more than just reaction to police brutality: they are about the historical and ongoing racial disparities not only in the realms of law enforcement and criminal justice, but also housing, health care and yes, education, in the United States.
So I thought this would be a good time to re-run a season one episode about school segregation. School segregation in the USA is now at its most extreme since the 1960s, and growing more pronounced each year. Didn't Brown vs. the Board of Education settle this issue in 1954? episode will detail the very real, legal, de jure (as opposed to "de facto," as it is often erroneously taught) reasons why the dream of integration has not yet been realized in American schools, as well as some ideas for changing that for the better.
This week will feature two episodes. Episode#8 will follow shortly.