Podcast: Play in new window | Download (Duration: 24:05 — 55.1MB) | Embed
Subscribe: Google Podcasts | Email | RSS | More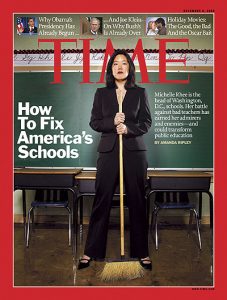 S2E12 – School for Scandal, Pt 1: The Bee-Eater
Public education suffered a cascading series of scandals at the end of the last decade, when teachers and principals in towns and cities across 40 states were discovered to have cheated state accountability measures by altering student test results. We begin a three-part series exploring this national catastrophe with this week's episode, where we focus on Michelle Rhee, controversial Chancellor of the Washington DC public schools, whose famous take-no-prisoners approach to student testing outcomes may well have set this saga in motion.
Click here for the list of sources used.
Next episode will post on Friday, July 3rd.